You can do a lot with $48,000 — pick up a couple of basic SUVs, acquire three Bitcoins or even buy a small house.
Or, as of February 2018, you can drop the whole chunk of change on one night in what's being touted as the most expensive and exclusive suite on the French Riviera.
The opulent two-bedroom Princess Grace suite is the centrepiece of four-year, multimillion dollar renovations at the
Hotel de Paris Monte-Carlo
in the swanky Mediterranean principality of Monaco.
Legacy of Princess Grace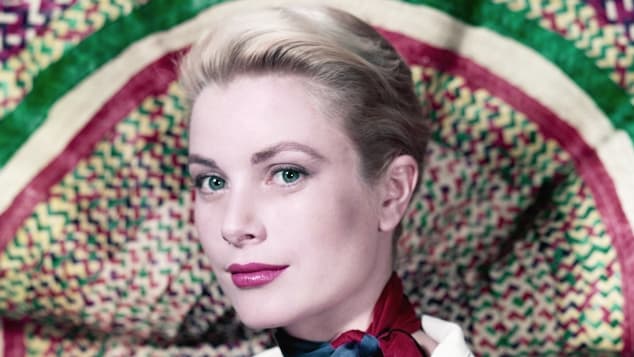 Hulton Archive/Getty Images
The 910-square-meter luxury suite takes its name, and its style pointers, from celebrated US movie star Grace Kelly, who became a princess when she wed Monaco's Prince Rainier in 1956.
It's claimed the Hotel do Paris Monte Carlo was her five-star luxury retreat of choice, although several other posh hotels around the planet market their own Princess Grace Suites.
Housed on two floors of the hotel's new wing, the Monte Carlo's Princess Grace suite was designed with the blessing of the Monaco royal family, which donated Princess Grace's artwork, family photos and her favorite literary and poetic works from their private collection.
Prince Albert — Princess Grace and Prince Rainier's son — is said to have been closely involved in the design. He and his sister, Princess Stephanie, attended a low-key inauguration last November.
Memories of their mom, who died in 1982, are all over the suite in the form of photographs from the palace archives.
One includes her arrival to Hotel de Paris Monte-Carlo for the reception of a film premiere where she was joined by fellow Hollywood stars Gregory Peck and David Niven.
A frame made by Princess Grace from a collage of dry flowers is proudly displayed in the grand master bedroom. The room's TV also plays an exclusive black and white film montage featuring the star.
During the spring, the suite will be decorated with the princess's signature roses.
Palatial penthouse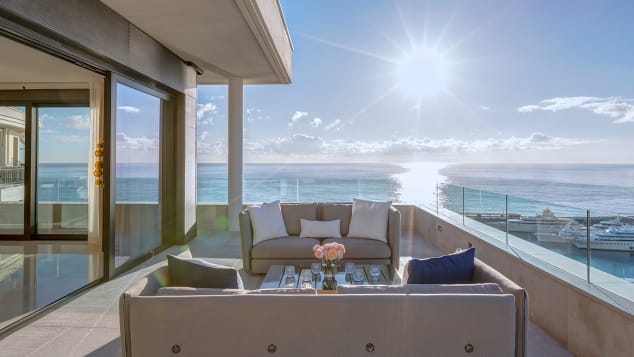 ONTE-CARLO Société des Bains de Mer
Enough of the romance and nostalgia. What about the luxury?
As you'd hope from a room that costs just under the average US annual salary per night, no expense has been spared.
The palatial penthouse has two luxury bedrooms with dressing rooms, two bathrooms complete with sauna and steam room, multiple lounges, a dining room and an office.
Floor-to-ceiling windows pull in plenty of natural daylight to illuminate the suite's calming neutral color scheme, plush fabrics and gilded furnishings.
A curved staircase decorated with a crystal chandelier links the two floors of the duplex as well as a discreet elevator.
The lower floor of the suite occupies the hotel's now completely revamped seventh floor. The upper deck, covering the entire eighth floor was added during the hotel's refurbishment.
Building materials include mother-of-pearl inlays and high quality Carrara marble from Italy's Tuscany region.
The hotel's facelift forms part of renovations to an entire block surrounding the ritzy new One Monte Carlo office and residential development, which reportedly cost in excess of $782 million.
The actual cost of the Princess Grace penthouse remains a closely guarded secret.
"You are buying a dream experience. Dreams have no cost," one member of the hotel's team confided.
Such is the status of the Monaco seafront hotel, it's remained opened throughout the extensive works — which began in 2014 and are expected to be finalized by September 2018 — as regular guests refuse to stay anywhere else on the Riviera.
That Riviera touch
ONTE-CARLO Société des Bains de Mer
For guests of the Princess Grace suite, the luxury and glamor goes beyond the interior, extending to an exclusive 440-square-meter outdoor space also set across two floors.
The elegant terrace features a manicured garden, a heated infinity pool and Jacuzzi, not to mention 180-degree views from the Prince's Palace to the Italian Riviera.
Because people who spend $48-large for a single night in a hotel need all possible luxuries at their fingertips, there's a fleet of staff on speed dial to coordinate everything from heliport pick-ups to the personalized mini bar and wine cellar to in-suite dining experiences courtesy of Michelin-starred chef Alain Ducasse.
The perks extend beyond the hotel. Those booking the coveted suite enjoy access to a dedicated private booth at the fancy
Thermes Marins Monte-Carlo
, a 6,600m
2
wellness haven offering a hub of high-tech treatments.
Star power
With Monte Carlo being a magnet to the jet-set crowd, the hotel — which was opened in 1863 — has long been renowned for its superstar pulling powers.
Princess Grace and Prince Rainier celebrated their wedding reception there and 20 years later they enjoyed a low-key anniversary dinner in the intimacy of the hotel's wine cellars.
As well as the princess, everyone from Rita Hayworth and Cary Grant to modern-day music icons Beyoncé and Jay-Z have all graced the suites of this illustrious five-star establishment.